Dear Person Behind Me Hoodie
Original price
$39.98 USD
Original price
$39.98 USD
-
Original price
$39.98 USD
Original price
$39.98 USD
BE THE REASON SOMEONE SMILES TODAY!

Wearing this Hoodie signifies that you value others just as much as yourself. Be the positive change you wish to see in the world.
MAKING RANDOM ACTS OF KINDNESS EASY!😍
✅We understand how daunting intimidating, and potentially dangerous giving random acts of kindness to strangers may be!
✅Which is why we've made being kind a whole lot easier, with our Dear Person Hoodies!
✅Now you can enjoy the peace of mind of knowing you're sending out positive energy, spreading good vibes, and leaving every location a much better place than it was before!
✅Without worrying about the nerves of approaching people in public!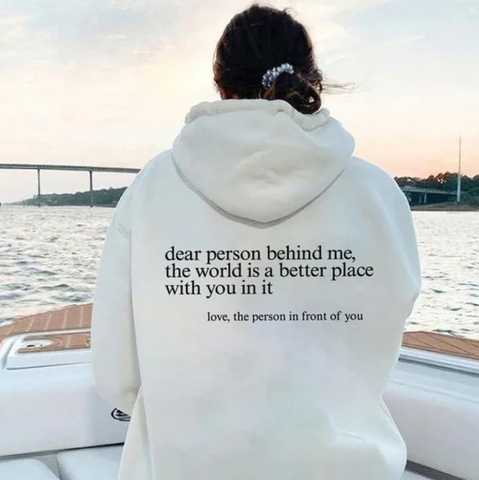 Why Choose the "Dear Person Behind Me" Hoodie?
1. Let Your Hoodie Do the Talking: Whether you're walking down the street, waiting in line, or enjoying your favorite coffee, our "Dear Person Behind Me" Hoodie is here to say it all when you can't. Perfect for introverts, extroverts, and everyone in between!
2. Premium Comfort: Crafted from the finest blend of cotton and polyester, this hoodie is as comfortable as it is stylish. It's soft, warm, and designed for all-day wear, making it the ideal companion for any occasion.
3. Unique Design: The "Dear Person Behind Me" Hoodie features a bold and eye-catching message on the back, ensuring you stand out in the crowd. Its minimalistic font and elegant design make it a fashion statement with a purpose.
4. Versatile Style: This hoodie is incredibly versatile. Pair it with your favorite jeans, leggings, or even dress it up with a skirt. It's perfect for casual outings, gym sessions, or just lounging at home.
5. Thoughtful Gift: Looking for a memorable and thoughtful gift? The "Dear Person Behind Me" Hoodie is perfect for birthdays, holidays, or to surprise that special someone with a touch of humor and style.
Size Chart :
"For a loose and comfortable style, go up one size!"